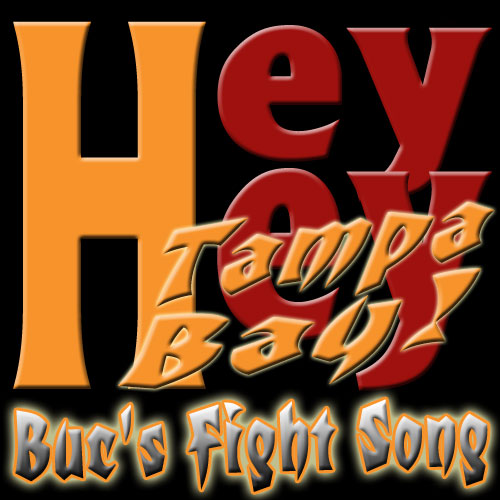 Our Main Sponsors -



WORLD RECORD ATTEMPT
Most cell phones ringing simultaneously while also playing the same ringtone, "Hey, Hey Tampa Bay!"
Directions: Download your FREE ringtone of, "Hey, Hey Tampa Bay!" Set it as your ringtone on your phone! Register your cell phone number with us. Bring your phone with you to the game, the mall, take it where ever you go on Sunday, and we'll ring it a few times throughout the day. When you see caller ID 7276371663 calling, LET THE PHONE RING! - it's US.
If you have a group of friends load the ringtone on their phones along with you, you can really freak some people out when all of your phones start ringing at the same time and playing "Hey, Hey Tampa Bay!"
Jeff Arthur cracking up when Shawn Bray brought him the release to sign to allow the Bucs to use "Hey, Hey Tampa Bay" in association with their 'Throwback Game'. "I'm totally freakin out!", Jeff exclaimed.


8/21/09
Jeff Arthur reveals the shirt he's had on under his other shirts for the last 30 years.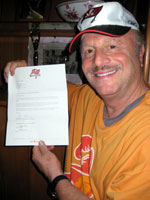 Jeff waited 30 years for this magical day. He and his family are HUGE Bucs fans and can't wait for Nov. 8th to get here
--------------------------
PARTIES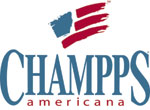 Party at Champps!
October 25th
Click for Video


Party at Ferg's!
November 7th
Click for Video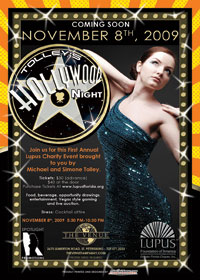 Our Post 'Throwback Game' Party at The Venue.
"Hey, Hey Tampa Bay"
Back for the Throwback Game
"Hey, Hey Tampa Bay" is back and just in time for The Buccaneers to conduct their very first 'Throwback Game.'  That's right! The Bucs are recreating the vintage Orange and White uniforms, and Tampa is preparing for a throw down – throw back – 'Battle of the Bays'.  To top it all off, the guy who taught us how to spell Buccaneers recently signed a release to allow the Bucs to use his song for festivities planned surrounding the upcoming game with the Green Bay Packers, November 8, 2009 at Raymond James Stadium in Tampa, FL.
B-U-C-C-A-N-E-E-R-S! GO BUCS!

Those are the opening lyrics to the original "Hey, Hey Tampa Bay", created by Jeff Arthur, also known as the 'King of the Jingle', for his work on such jingles as, "Make It a Blockbuster Night" and "Original Home of the Whopper" – Burger King.  His Bucs Fight Song took over the Tampa Bay area airwaves in the fall of 1979, and is now synonymous with the 1979 Tampa Bay Buccaneers.

"I was a recording artist in the early seventies and recorded two albums," said Arthur as he reminisced, when he received the news. "The band's name was Arthur, Hurley and Gottlieb. I traveled with Jimmy Buffett and played with John Lennon and I was even on the Mike Douglas Show.  Having the Bucs ask me to officially use 'Hey, Hey Tampa Bay' is the coolest thing that has happened to me in a long time.  I was absolutely thrilled when Shawn Bray brought me the news.  Shawn is a good friend of mine who works in the music business, and he told me more than ten years ago that he would like to hear the song played in the stadium.  Well... looks like that is finally going to happen." 

Back in the day, 1979 to be exact, Jeff and his family had the lyrics printed up and passed them out to everyone who entered the four gates at Tampa Stadium.  In addition, Arthur teamed up with a friend who sold unofficial Buccaneer t-shirts with the lyrics to the song on the back.  It was the only way to teach fans how to sing the song.
Today there are websites/blogs on the Internet that talk about "Hey, Hey Tampa Bay."  Many even allow you to download a copy of the song to your computer.  Beware, some of those sites can be potentially dangerous and contain harmful viruses.  That's why Jeff Arthur has decided to make all three official versions of the song available, HERE along with lyrics for you to print out and practice while listening on your computer, iPod or mp3 player.  You can even download a ring tone version and more.
For those of you who haven't quite got a grip on the Internet yet, or you just want an official piece of nostalgia, Jeff is working with several local businesses to make CD copies of the song with lyrics available so everyone in the Tampa Bay area can practice and be ready for the 'Battle of the Bays' and the big 'Throwback Game' in November. Just click on any of the ads that you have interest in and it will take you to our partner sties, where you can go and pick up your copy TODAY!

-released: September 9, 2009

Press Release 10/14/09 - DOWNLOAD
DONATE TO THE LUPUS FOUNDATION
or TEXT "heyhey2" to 69937 for ringtone
TEXT "heyhey3" to 69937 for wallpaper

Benefits...

Be an OFFICIAL Participant. After you have downloaded the ringtone, simply fill out the form below, and we'll contact you via email with details.
World Record Participant Registration



PARTIES & INTERVIEWS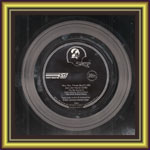 This is the very first record of,
"Hey, Hey Tampa Bay!"
Click to see a larger version.